Beautiful and striking buildings
,
made to measure. We are convinced that beautiful designs last longer and are therefore sustainable. In our opinion each design should have its own identity in its surroundings and the users must be able to identify with it. Experience and knowledge of architecture, environmental- and product design come together in the creation of our designs. Every project is special, as is our approach to each assignment.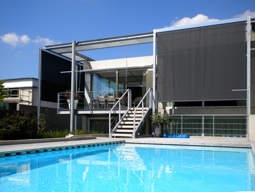 Sustainable building. We are conscious of our responsibility to the environment and firmly believe in the use of sustainable materials and techniques. The growing supply of sustainable technology on offer increases the possibility of delivering a package of facilities tailored to each building.

We make the energy concepts and EPC calculations ourselves, because we consider energy management to be an integral part of the design. Egeon Architects have a broad experience in the application of solar panels, wind turbines and heat pumps in combination with low-temperature heating systems. We enjoy the challenge of designing sensible connections between building elements.